TAFT ROBERT
The Evolution of the Byzantine "Divine Liturgy"
Biographical Note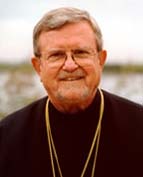 Archimandrite Robert F. Taft, S.J. is a Jesuit priest of the Byzantine Slavonic (Russian) rite, and also editor-in-chief of Orientalia Christiana Analecta, founder and editor-in-chief of Anaphorae Orientales, and Professor Emeritus of Oriental Liturgy at the Pontifical Oriental Institute, Rome. Fr. Taft has received numerous academic awards. He is Consultor for Liturgy of the Vatican Congregation for the Oriental Churches and member of several Vatican commissions.


Main works: The Great Entrance. A History of the Transfer of Gifts and other Pre-anaphoral Rites of the Liturgy of St. John Chrysostom, 1975, The Liturgy of the Hours in East and West, 1982, Divine Liturgies — Human Problems in Byzantium, Armenia, Syria and Palestine, 2001.